Hi,
I hate it and you for sure too... we all don't like
to be lied to. But if you look into your email inbox,
it's happening over and over again... every day.
Who lied to you about what? I will let you know soon,
but first I need to ask you...
Did you noticed the increased number of emails in the
last few days, telling us about two new products that
are both about to be launched this Tuesday?
I certainly got a whole bunch of those emails.
Usually not a problem for me and I am used to get a
ton of emails every day. What upset me about some
of them this time are the outright lies in them...
made by some unethical marketers just to make a quick
buck promoting those products.
Now... I am by no means saying that those products
they are promoting are not worth the money that will
be charged for them starting this Tuesday. In fact...
I do own both products myself.
Before I tell you more about those products, I want
to ask you something.
Have you ever heard from successful marketers that
you should never ever, in any email or web page offer
your readers or visitors more then one option to take
action upon?
The reason they say this is because the average reader
or visitor will get confused if confronted with more
then one choice. And the confused mind, so they say,
always says "No."
Well, I agree with those marketers to the point that
the more options you provide, statistically you will
decrease your results. But today I will break that
rule because I simply believe that you are smarter
then the average reader or visitor.
So, those two products are worth their money, but they
are not for everybody. So what are those two products
and who are they useful for?
Oh, I almost forgot... I still owe you an answer to who
lied to us and how. One of those emails that I am
referring to arrived in my inbox on the 28th.
Now... I could just give you the name of the person
that I received this email from, but I feel like by
bad mouthing him, I wouldn't do anybody a good service
with. So, i have you understand when I just share
with you one of the lies I discovered...
In that email it said: "You remember that I met Mike
Filsaime a few weeks back?
Well he told me all about his new product that is
coming out next week and NOBODY ELSE knows about!
Nobody that is, apart from ... YOU!"
Yeah, right... I am one of about 200 I-5 Protégé
Mastermind Partnership Program member and besides
Tom Beal, Donna Fox and Paulie Sabol, Mike Filsaime
is one of our coaches and mentors.
And let me tell you... of course, ALL I-5 members
knew about that launch on Tuesday. Do you see why I
am upset about that email?
Anyway... let's move on an forget for now about this
dark side of email marketing.
Here are the two products that are about to be offered
staring Tuesday the 8th of August...
1. Mike Filsaime's Butterfly Marketing Manuscript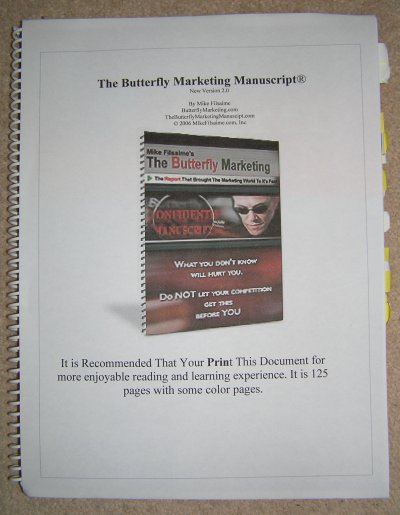 (Note: This is a PDF document that I printed out)
This manuscript has been part of the Butterfly Marketing
Home Study Course that Mike started selling on the 31st
of January and is an absolute must for everybody that
can't afford to get complete Butterfly Marketing Home
Study Course.
I personally bought that home study course that currently
sells for $1,497 on the first day of its launch and can
highly recommend it to anybody that wants to make good
money on the Internet.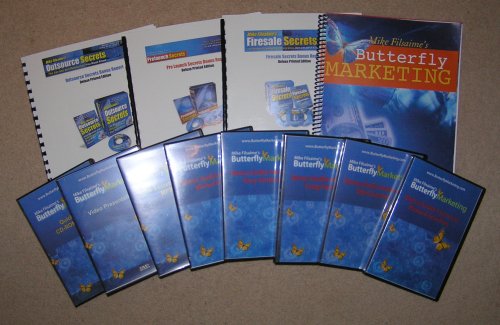 It comes with the Butterfly Marketing Manuscript, two DVD
video presentations, six audio interview CD's, a CD with
very interesting MP3 recordings and access the Butterfly
Marketing software script that I just used to launch my
new Add2it Go-To System site at www.GoTo-Pro.com (which by
the way resulted for me so far in 165 sales in 11 days).
Are there any down sides to that course? Well, there
are. One was the flimsy packaging of the course and too
slow delivery. But hey, that might have been due to the
fact that I ordered right away on launch day.
Another downside to using the course is that the script
is not the easiest to setup. If you are a techy like
me, that's not a problem. Besides that, you get access
to an extremely helpful members only forum.
But if you are not a techy and don't have access to one
that can help you with the script, you should seriously
consider to outsource that part of the work to create
your own money generating Butterfly Marketing style web
site.
If this is what you are looking for, you need to click
here to get your hands on the Butterfly Marketing Home
Study Course.
Now... after hearing all this you might wonder, can the
Manuscript alone really help you?
Let me give you just one single example of somebody that
didn't use the Butterfly Marketing script, but used what
he learned in the manuscript to create a web site that
earned him $63,249 in sales in just 24 hours and over
$200,000 in 7 days.
The individual that was able to generate this huge
results is nobody else then Michael Cheney with his
Adsense-Videos.com web site.
Can you now see the potential power of the Manuscript
alone? It makes all the sense in the world to use the
tactics shown in this manuscript in any online business.
Also, the price for the manuscript is of course a lot
less than for the complete home study course.
Now, I would like to give you the price for it right
here and now. But Mike asked to keep the price under
the cover until Tuesday. But he did himself hint in
an email that it will be less then $197.
Well, here is another hint... it's more then 50% less
than what Mike is hinting.
Instead of waiting for Tuesday the 8th of August at
8 am EST, go ahead and click here to download one of
the chapters of Mike's Butterfly Marketing Manuscript
right now.
Then, on Tuesday, you simply click here to get your
hands on Mike Filsaime's Butterfly Marketing
Manuscript.
2. Mark Joyner's eXtreme Business Makeover Home Study
Course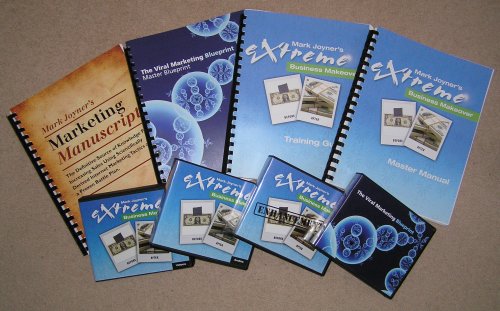 This course is aimed towards the entrepreneur that
wants to grow his or her business exponentially and
is huge...
It contains 20 video DVD's, 20 audio CD's and 4 big
manuals with a total of 674 pages of detailed business
building information.
What I want to positively point out here is that
even though, as you possibly can imagine, I haven't
yet been able to look at everything. The first 14
DVD's that I have watched so far contain such a
wealth of information, it seems unreal.
Another cool point is the speed of delivery. As you
might know, I am located in Australia and the FedEx
package arrived in just 5 days.
Take a look at me holding the FedEx package in my
office...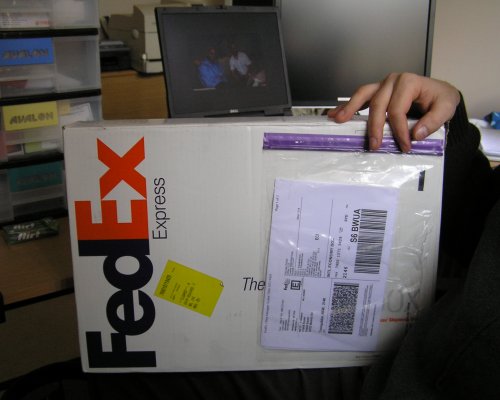 This package is huge, but I believe it's not as
useful for the complete newbie then for anybody
with an existing online business that wants to
improve it.
If that is you, you simply click here on Tuesday
to get your hands on Mark Joyner's eXtreme Business
Makeover Home Study Course.
Right now you will be able to see several previews
at that page, then on Tuesday the 8th of August at
6 pm EST it will be able to get your hands on the
home study course yourself.
Now, in the fashion of every good online marketer
online, I would like to offer you a bonus for taking
advantage of either Mike Filsaime's Butterfly
Marketing Manuscript, his Butterfly Marketing Home
Study Course or Mark Joyner's eXtreme Business
Makeover Home Study Course.
As I mentioned before, I just launched my own new
Add2it Go-To Service site at www.GoTo-Pro.com
where you will discover in just 4 1/2 minutes how
you will earn $3.77 or MORE for every $1 you spend
on your online marketing and slash up to 90% of
your marketing costs.
What I will give you is access to the $2,406.64
value lifetime Platinum membership package.
All you need to do is get either the manuscript
or one of the two home study courses using one of
my links above and then open a new helpdesk
ticket and show me your payment receipt.
I will then create your own $2,406.64 value
lifetime Platinum membership account right away.
Looking forward to hear from you and see you
succeed on the Internet.
'Whatever the mind can conceive and believe... it can achieve.'
Napoleon Hill, Think & Grow Rich
To your success,
Owner of Add2it.com & More4you.ws
PS: Would you like a System that...
Protects all of your affiliate links, Tracks Conversions
to sales, Doubles, Triples, Quadruples conversion rates?
Limited time offer of less than $10.00 for life...
www.GoTo-Pro.com